Les romans de Catherine Legeay
Thème
Les choix de vie, professionnelle et amoureuse. Le projet de vie, seul ou à deux.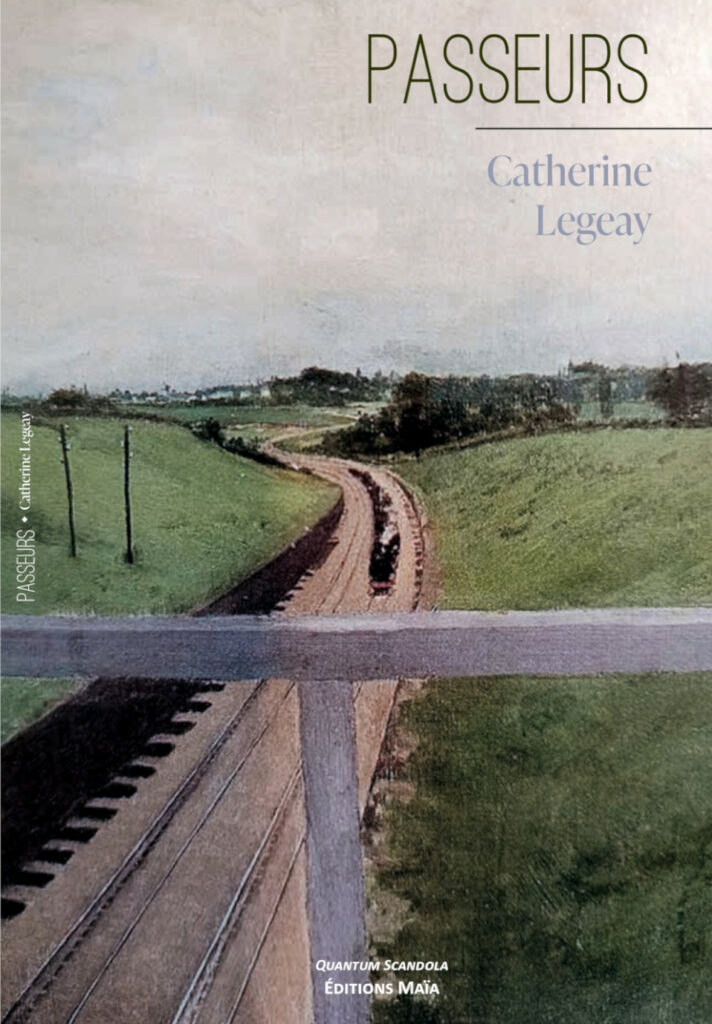 Cadre
La ligne de train Cerbère-Paris qui remonte du Sud vers le Nord de la France.
Extrait
« Mais rester là, pourquoi pas ? Encore un peu de Sud avant de replonger dans les brumes du Nord et de sa vie… Si pressé qu'il fût quelques heures plus tôt, il commençait d'envisager de prolonger cette plongée hors du temps. Le retenait aussi en ces lieux le fait qu'ils étaient vierges de Sonia et de ses pensées pour Sonia. Pas la moindre molécule de Sonia, de l'amour de Sonia, de l'amour d'Arthur, n'intervenait dans la composition de ces lieux et de ces instants.
Il allait, à Cerbère, commencer de l'oublier. Loin d'elle, il déplierait enfin son cœur racorni par la rupture, comme le nouveau-né déplie ses membres tout neufs. Il en lisserait les plis, il l'installerait dans le confort d'une anonyme sérénité, après avoir soigneusement démantelé sa peine, ce tissu que la trame des espoirs et la chaîne des regrets avaient rendu si rêche. Il marcherait vers ce cap Cerbère qu'indiquaient les panneaux, et déplierait aussi ses jambes et ses bras, le nez au vent salé. »
Avis des lecteurs
Acheter l'ouvrage
TRAIN of LIFE
Edward Freeman held the chair of French literature at the University of Bristol. Now in France, where he settled twenty years ago, he produces careful translations in collaboration with French authors.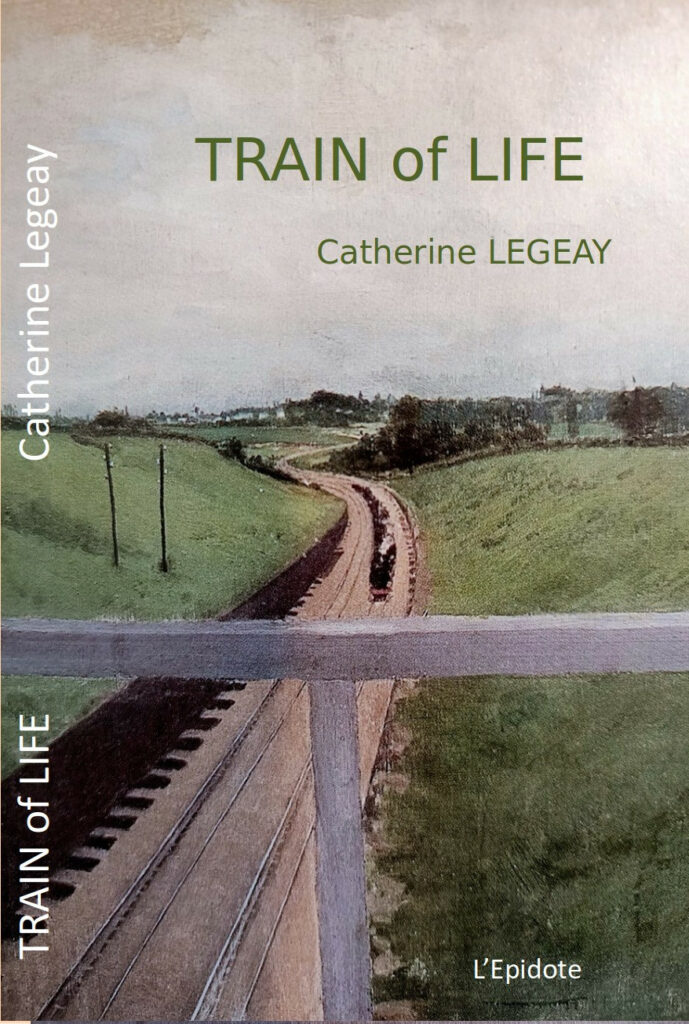 Excerpt of "TRAIN of LIFE" :
Cédric seemed impressed by this. And that in turn made Arthur feel better about himself after a strange day spent being assailed by disagreeable facts and becoming aware of painful truths. It had all been chaotic and he hadn't been able to do anything about it.
"Have you got a girlfriend?"
"I did have" said Arthur, lowering his eyes on having to focus unexpectedly on Sonia no longer as the person once loved and henceforth distant.
"That's like me!" Cédric replied enthusiastically. "Just the same with me. D'you understand them? Does anyone know what girls want?"
This was followed by a mellow silence. Any comment from either could only have destroyed the mood. Both sipped their beer and that was the only sound for a while. That and the low hum of the fan, above which a grumbling of distant thunder was suddenly heard.
"Ah, there's going to be a storm. It's been too hot today. Too hot to work."
Arthur felt confident enough to ask "And where's your mother?"
"During the week she's away, working in Perpignan. It's too far to come back every night. But sometimes she stays away at the weekends too. Especially when the hotel's full. My old lady's not too keen on the hotel business."
"So you're just here with your father?"
"Yeah, but I've got the feeling she's not on her own in Perpignan. If you see what I mean."
Cédric's pain was digested by them both in silence.
"Quite frankly, women..." and he added quickly "but men can be a problem too, eh? Don't get me wrong."
Arthur grinned and made a gesture that meant "Don't worry, I know what you mean." He finished his beer and launched off again:
"I saw those gypsies again, you know, those who wanted a room."
"Ah, that lot, I know them. You wouldn't believe it. They end up round here all the time. Every few months a gang like that comes in asking for a room. OK, I made a fuss before because they do sometimes pay. There are smugglers who do sometime part with a
bit of money, it's meant to be part of the deal. But dad doesn't want them. He's had problems with them in the past. Often they clear off without paying, or steal things, towels, soap, anything they can get their hands on. Or they louse everything up and do damage, you wouldn't believe it. So my dad goes crazy, and says he's not having any more.
"Where do they come from?"
"I dunno. From further and further, I guess. They come by sea. Sometimes they land at Sète from North Africa. They set off from places in Africa and even further, the Indian Ocean. And then once they're in Sète some of them want to go to Spain, so they come this way. And some arrive here by chance. They get off the boat not knowing where they are. The smugglers get rid of them by putting them on the first train or boat."
"You seem to know a lot about it" said Arthur.
"Yeah, my geography teacher's in an organization that tries to get migrant kids into school. He's crazy about it, totally committed. He's explained it all to us."
"And what do you think about it?"
"Me? Right now, what with starting back at school, and my girlfriend dropping me to go out with a big fat cretin called Bolfa who's hopeless at rugby, I'm not too concerned about immigrants…"
Arthur felt less abject and ashamed about rejecting the girl at the station. If his own feelings were shared by Cédric they couldn't be all bad. They were legitimated. If it had not been for his tribulations during the whole of the long day he'd gone through, he'd have felt that way too. His situation was precarious and did not inspire in him any feelings of good will towards people who were even worse off.
Cédric got up to lock the hotel door. "You're not going out again? You're the only customer tonight." "Certainly not", said Arthur, who'd just spotted a row of books. They were on a shelf half hidden by a dark curtain almost worn through. He took one out. A book! He hadn't any with him. Just what he needed to keep him company for the long night alone in his room.
"Have you read it?" he asked, wagging it under Cédric's nose.
"Narrative of my Captivity among the Sioux Indians" by Fanny Kelly. It's the epitome of American wagon train literature."
"Epitome of American what?" laughed Cédric. "I've heard of airport literature, but what's wagon train literature?"
Arthur had read the book several years earlier and thumbed through it again. He explained what kind of literature it was, logbooks or diaries kept by pioneers in the Far West, usually written by their wives in fact. Some of these expeditions he had followed in an atlas, trying to locate every river, mountain chain, valley or depression along the course of the North Platte River
Cédric sighed. "Well, I've still got a lot of maths to do. By the way, what time are you leaving tomorrow?"
"I'm taking the 7 50 to Paris."
"You're going back to your work? You'll be back in your own place at least? Your girlfriend isn't really going to chuck you, is she?"
Arthur was touched by this flood of naïve but well-intentioned
man-to-man questions, which couldn't go unanswered.
"The truth is, I'm going to lose my job, the one I've been doing round here. My car got stolen this morning near Elne. It was the firm's car in fact. According to the police, there's not the slightest chance of getting it back. So it was goodbye to my cell phone, well, the firm's cell phone, and all the documents for my job, my bag and my I.D. papers, credit card, everything. Oh, but don't worry, I've got enough to pay for my room. As for my girlfriend, she walked out on me two months ago to go and live somewhere else. I've kept my little apartment, but I can only have it for another month."
This left Cédric silent and thoughtful. He did some doodling inside the cover of his maths exercise book.
"Poor lad. What're you going to do?"
"Don't worry. I'll get by." Arthur was pleasantly surprised by the conviction with which he said it.
The way ahead was clear. He was on his way back to Paris and would prepare his story for the boss in the train. He had his proof of the theft ready. He'd give his mother a call from a public telephone
to get help. Then he'd get new identity papers, and look for a job. Any job would do just to get new accommodation.
The next day's events seemed well mapped out. For this much he was thankful for the conversation with Cédric. But the latter wasn't finished.
"Listen, I've got an idea. I'm meant to stay here all night and sleep on that bench there. That's because we've got a customer, namely you, and in case you never know, there might even be someone else coming in quite late looking for a room. I lock up at midnight and sleep there, or at least I try to. But I really do need to sleep properly as I've got a class tomorrow. My dad won't mind if you sleep there instead of me. So that way, if you're the night watchman, you naturally get a free room."
"Well, he's already promised me a free breakfast, and I'm looking forward to it. Thanks all the same…"
"Come on, just say yes! It's no big deal," urged Cédric. "Just say yes! You'll be OK there. Just go and get your stuff from your room."
"Thanks but I haven't got any stuff."
"OK, so just stay here, and that's it."
Cédric's pleasure at doing him a good turn – one he couldn't refuse - touched Arthur, even though he would have preferred to take refuge in the solitude of his cell. The mark of Sonia was still powerful and he knew he needed to think Sonia, think about Sonia, think all round Sonia.
It was as if Cédric sensed this obsession.
"I'll leave you in peace soon. I'm going to bed when I've finished my maths revision. If you want to use the computer, feel free. I'll leave it on. And you can phone out free from here."
"Your old man isn't going to be pleased if the only customer he's got in the place is on a freebie."
"34 euros aren't going to make much difference, we're still in a mess, right? If theold man doesn't make his mind up soon to do something with this place, we're really in the shit. I ask you, the Catalan Dragons coming here four times a year, what kind of business is that?" he laughed.
"What are the Catalan Dragons?"
The subject didn't really interest Arthur any more than Cédric had a compelling desire to know all about wagon train literature, but he asked out of politeness just the same. Cédric pointed to a pair of framed photos behind the reception desk. They showed a team of rugby players in colorful shirts, with massive bronzed faces looking as if they were carved out of rock and bulging thigh and calf muscles, enhanced particularly in the case of those crouching down.
"It's the Perpignan rugby league team. They're awesome. That one is one of my dad's mates, that one is his brother-in-law, that one's his cousin. Were all related round here. This bloke is Samoan. The Samoans are the best players. Sometimes we go there deliberately to find them." "Immigration in reverse" Arthur reflected to himself.
Fatigue began to get to him, and he was feeling almost dizzy. He was exhausted by the conversation he'd had with Cédric, which had raked up all his worries and the problems of the long eventful day in a succession of (…).
"I'm going to lie down", he said.
"You're going to pull through, mate. You're a good lad, I can see that. Do you want a tee-shirt to sleep in?"
"Thanks, and I'd like to wash my shirt. I haven't got anything for tomorrow morning."
"I'll give you one of mine. And if you want a shower, just go up to the room on the first floor. Feel free."
"OK, great. I'll post your shirt back to you."
"No, don't worry about that. It can wait till you're coming this way again. Anyway, I don't wear shirts. My mother can buy me one. That's the least she can do."
There was no way of knowing how Cédric's mother's debt was calculated. Arthur stretched out on a bench seat which was more comfortable than it seemed at first sight. And he went straight to sleep, watched over by the adolescent in the background, grumbling about his maths exercises.
Readers reviews
Buy the book
Directly from the author by filling out this form: